The French Laundry is a French restaurant located in Yountville, California, in the Napa Valley.  The name originated from the building once used as a French steam laundry back in the 1920's.  In 1994, chef and current owner Thomas Keller bought the location  (he also owns Bouchon, Ad Hoc and Per Se).  Raved as one of the best restaurants in the world by Anthony Bourdain, it is no wonder there is much hype for this restaurant.
A few things you should know:
9-course prix fixe (vegetarian menu also available)
Cost: $270 (service included).  Wine ~$50 extra/person.
Be prepared to dine for 4 hours!
Jackets required
2 months to the date reservation required.  If you call on Jan 5th, you are reserving for March 5th.
Reservations are extremely difficult.  You may need to redial for 1.5+ hours before being connected.
Today's menu: http://www.tkrg.org/upload/fl_menu.pdf
A lot of the ingredients come from its own 3-acre organic garden across the road….you can taste its freshness!
Having said all that, I was fortunate enough to have the opportunity to dine at the French Laundry!  It was an unforgettable experience.  I was very impressed with the quality of the dishes especially its simplicity, both in presentation and in taste.  Flavoring/salt use was perfect, bringing out all the flavors in its fullest and freshest form.  While the taste can't be captured in the photos below, it should give you a sense of what to expect from the French Laundry!  Bon appetit!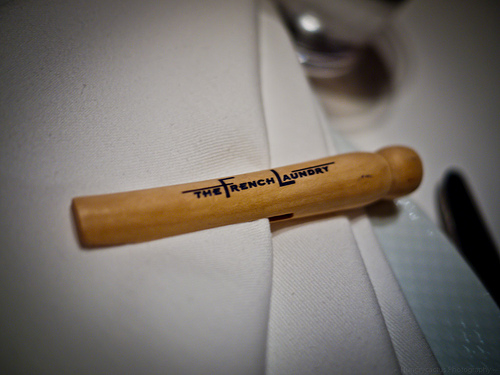 French Laundry clip!